Mozility ensures total reporting compliance from field sales staff including accurate entry of field activities that are updated at the Admin's end in real time.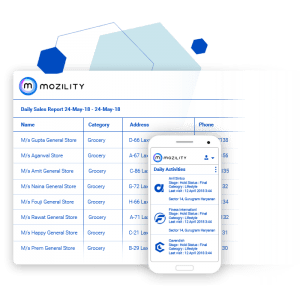 Mozility allows entry of field activities to its
users and provide this data to central office in real time.

Real time ground activity feeds to management provide 'visibility' of off-site employees.

Efficient system to capture on-field work. Bypass legacy system of paper based record keeping by field staff

Get rid of cumbersome maintenance of paper DSR sheets which are prone to error, damage and loss

Saved time can be utilized for enhanced productivity

Entry form includes photograph capture feature for work authentication

DSR auto generated as the activities entered via App

DSR report gives clear view of workers efficiency. Non performers can be easily segregated and performers rewarded
Check out these other solutions too